WPL100 Operable Louvres
The WPL100 Operable Louvre is a fully closeable louvre. It may be opened and closed manually, lever operated or with a 24 volt linear actuator.

We are very proud of this louvre and believe it is the best available on the market. Some points of difference are:
The louvres come complete with nylon bushes on all moving parts this ensures quiet operation.
Fixed rubber seal (eliminates walking and jamming of seal).
Superior heavy duty drive lug and gang bars
The louvre can be made in a Channel or Flange frame.
Channel frame model fits into standard commercial sill tray
Units can be stacked without framing.
These units compatible with commercial seismic window frames for easy removal/installation if required.
Can be built with continuous look on building exterior.
Technical Information
All specifications and sizes as per standard WPL100 Model louvre.
Drawing Downloads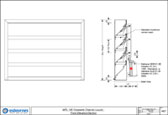 | | |
| --- | --- |
| Drawing | Acrobat |
| WPL100 Closeable Channel Louvre - Front Elevation / Section | PDF |
| WPL Closeable Flanged Louvre - Front Elevation / Section | PDF |
| Seismic Closeable Channel Louvre - Head & Sill Detail | PDF |
| Seismic Closeable Channel Louvre - Jamb Detail | PDF |
| › Drawing Download Guide | |