Powdercoated Finish Options
Powdercoating involves applying finely ground dry paint film to a specially pre-treated aluminium surface. This film is then heated, so it melts and cures to a tough smooth finish.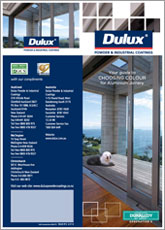 The Osbournes Powdercoating Plant
At Osbournes we have our own powdercoating plant. This considerable investment was made so that Osbournes can achieve the quality and timeliness we demand for our customers.
We use a Henkel (www.henkel.com) pre-treatment process, a Nordson spray booth (www.nordson.com), Gema powdercoating gun (gemapowdercoating.com) and Dulux and Interpon powdercoats.
A wide range of colours are available - see www.duluxpowdercoatings.co.nz and www.interpon.co.nz for the latest colours.
Click on the icon to the right to download the Dulux "Your Guide to Choosing Colour for Aluminium Joinery".
View our 20 Most Popular Powdercoat Colours
Silver Pearl

Arctic White

Matt Ironsand

Matt Titania

Matt Grey Friars

Off White

Matt Black

Warm White Pearl

Matt Desert Sand

Canvas Cloth

Bronco

Matt New Denim Blue

Matt Sandstone Grey

Matt Charcoal

Matt Karaka

Matt Lignite

Okeefe Grey

Silver Star

Matt Lichen

Appliance White

Disclaimer
The colour swatches are an approximate representation of the colours available and should not be interpreted as an exact colour representation of the finished product. Please contact us to view the actual colour samples.